Dott. Simone Giacosa
(RTDb) Assistant Professor
SSD: AGR/15 - food science and technology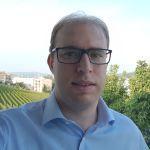 Contacts
+39-011-670-3997
Università degli Studi di Torino - DISAFA
Corso Enotria 2/C (Ampelion)
12051 Alba (CN) - Italy
At
Department of Agricultural, Forest and Food Sciences
Dipartimento di Scienze Agrarie, Forestali e Alimentari
Corso di Laurea in Viticoltura ed Enologia
Corso di Laurea Magistrale in Scienze viticole ed enologiche
PhD in Agricultural, Forest and Food Sciences
Curriculum vitae
Curriculum Vitae (0.2 MB)
Research topics
Enologo, dottore di ricerca in Enologia e Scienze e Tecnologie Alimentari (Università di Torino). Attività di ricerca focalizzata sulle strategie di estrazione e conservazione dei metaboliti secondari durante la vinificazione, valutazione e analisi del contenuto fenolico e di colore del vino e dei prodotti enologici, innovazione tecnologica in Enologia. Impegnato altresì sull'analisi delle proprietà meccaniche di uva (con riferimento anche all'estrazione dalle parti solide), vinacce e prodotti alimentari.
Autore di più di 200 prodotti della ricerca, comprese più di 100 pubblicazioni peer-reviewed indicizzate (Web of Science/Scopus) nei settori dell'Enologia e delle Scienze e Tecnologie Alimentari. Revisore per riviste scientifiche indicizzate nel campo delle Scienze e Tecnologie Alimentari. Membro della Società Italiana di Scienze e Tecnologie Alimentari (SISTAL).
English. Enologist, PhD in Enology and Food Science (University of Torino). Research activity focused on the extraction and preservation strategies of secondary metabolites during wine production, evaluation and analysis of the phenolic content and color in wines and winery products, technological advancement in Enology. Also focused on the evaluation of the mechanical properties of grapes (related also to the extraction from solid parts), pomace, and food products.
Author of more than 200 scientific contributions, including more than 100 indexed (Web of Science/Scopus) peer-reviewed publications in the Enology and Food Science fields. Reviewer for indexed journals in the Food Science and Technology category. Member of the Italian Society of Food Science and Technology (SISTAL).
Linee di ricerca / Research lines
Research projects
Office hours
Su appuntamento.